Treat Water Hardness
Resolve hard water issues by removing dissolved minerals from your water with a water softener. By comparison, our high-efficiency water softeners use very little salt. In addition, we also have salt-free options available.
Free Water Testing
We provide free on-site tests for water hardness, pH, iron, chlorine and total dissolved solids (TDS). Furthermore, we offer upgraded testing services for bacteria and illness-causing contaminants.
Water Filtration & Purification
Not all water is created equal! Fortunately, we provide various water softener and home water filtration system options to ensure clean and healthy water for your family.
High-Quality Water Softener &
Home Water Filtration Systems
Our mission at HQ Water Solutions is to help each customer achieve high-quality water. With this purpose in mind, we pride ourselves on being responsive, honest, fairly-priced, and customer-oriented. 
Our services include the professional installation, maintenance, and repair of various home water treatment systems, including water softener systems and home water filtration systems. 
Trust HQ to transform the water in your home and help you achieve your water-quality goals! We can't wait to work with you!
Residential & Commercial Water Softener and Water Treatment System Installation, Service, & Maintenance.
Resolve hard water issues by removing dissolved minerals, such as calcium and magnesium, from your water with a water softener. In fact, soft water will enable you to save money on plumbing equipment, appliances, gas and/or electric expenses, soap/detergents, and more. Furthermore, our customers often experience cleaner and less dry hair/skin. In addition to installing water softener systems, we also service and maintain new and existing systems.
We like to involve our customers in the water testing process to ensure that you understand the "why" behind our recommendations. Therefore, the first step is a free on-site water test, which looks at water hardness, pH, iron, chlorine and total dissolved solids (TDS). Additionally, we offer upgraded testing for bacteria and other illness-causing contaminants. If you're on well water, the Environmental Protection Agency (EPA) and National Ground Water Association (NGWA) recommend a yearly water test.
Reverse Osmosis (RO) systems are point-of-use water filter systems that remove minerals and contaminants from your water. Typically installed right at your sink or in conjunction with your refrigerator, this multiple-filtration process will leave you with healthy drinking water and thus eliminate your need for plastic water bottles. As a result, you can expect to save money and enjoy pure drinking water right from your tap (or refrigerator) while also positively impacting the environment.
Signs of iron in your water include yellow, red, and/or brown stains on items/appliances in your home such as sinks, showers drains, dishwashers, clothing, fixtures, and beyond. Iron can also cause your water to taste metallic. In addition, large levels of iron can cause well pumps, pipes, water heaters, and boilers to clog and/or fail. A simple water test will analyze the level of iron in your water, which will determine what water treatment systems might be necessary to eradicate iron and improve your water quality.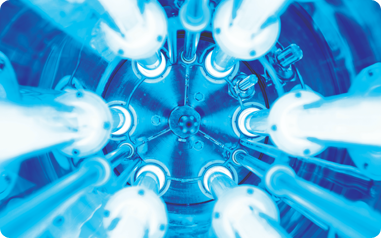 Ultraviolet (UV) systems are the most effective method for eliminating harmful bacteria and illness-causing viruses found in water — without the use of chemicals. In fact, this system disinfects the water in your main water line, which distributes water throughout your entire home. Not surprisingly, these systems are becoming increasingly more popular as they are highly recommended for well-water systems in order to kill the bacteria commonly found in wells.
Neutralizers, Custom Filtration, and More...
Based on the results of your water test, we provide various home water filtration systems and options to ensure high-quality water for your home and family. It is important to realize that your water may contain bacteria, lead, arsenic, nitrates, PFAS chemicals, heavy metals, minerals, or other contaminants. Given that each home's water quality is different, we offer custom treatment systems designed to tackle your specific water-quality issues. Examples include neutralizers [balances pH], carbon filters [reduces chlorine], and more!
WATER TEST & CONSULTATION
SYSTEM DESIGN
QUOTE OPTIONS
INSTALLATION
Enjoy your
high-quality water!
"There are not enough words to describe how happy we are with HQ! My husband and I had a water softener installed almost 3 weeks ago and the difference we've noticed so for is INSANE! From our skin, to our CLEAN dishes, the list goes on and on!
Were so thankful for Stephen, his knowledge, and how fast he was able to get our water tested and the system installed!"
"HQ Water Solulions installed our water softener system a couple of months ago and we couldn't be happier with the results! Ste-phen was incredibly responsive, friendly, and easy to work with. He explained the process in ways that were easyto understand and checked in on us after the installation to make sure things were sunning smoothly. We would recommend HQ to anyone look-ing for help with their water qualify!"
Guarantees & Warranties
Your local water softener
& water treatment experts!
HQ Water Solutions is here for you from initial outreach through project completion — and beyond. For this reason, we ensure transparency, up-front pricing, and measurable results for each and every job. In addition, we will check in with you after your project is completed and are always available for questions or concerns via email, text, or call! Furthermore, we stand behind our products, systems, and workmanship and are proud to offer a 1 year 100%, 5 and 10 year warranty to all customers. Beyond our warranties and guarantees, we offer LIFETIME customer support and post-install water tests to ensure your products are addressing your specific water-quality needs. Most importantly, we guarantee high-quality water, because your water is our business. Undoubtedly, we are proud to be your local water softener & water treatment experts!